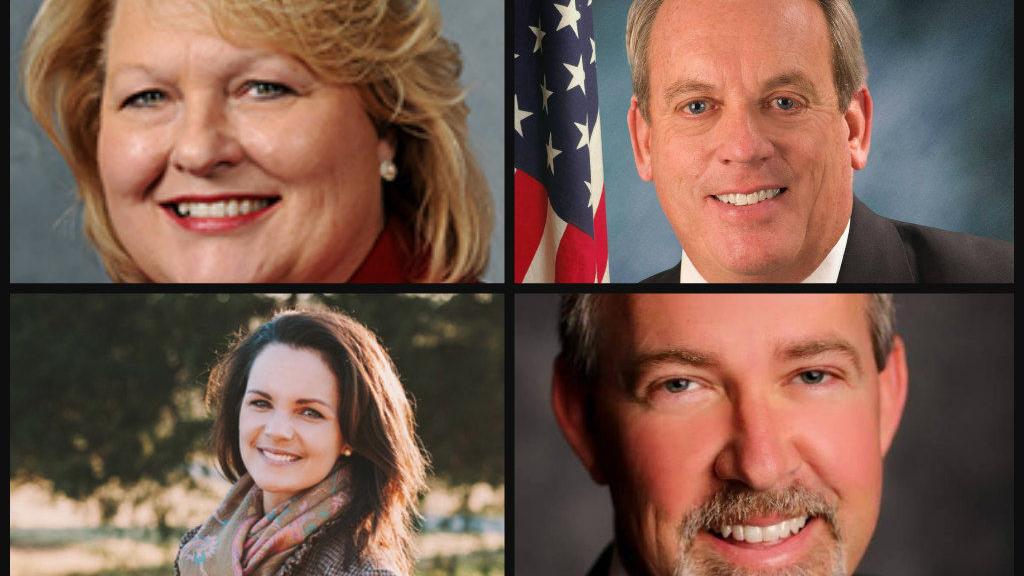 Here are The Southern's endorsements for local seats up for election in the state House and Senate:
House District 115: The choice here is easy, Terri Bryant is the obvious pick for the seat. It's astonishing how far Bryant has come in her four years in office. After all, it was this very editorial board that asked, "Is Terri Bryant allergic to voting?"
Well, it turns out she isn't. And she's also proven during her time in Springfield that she will vote her district, and not necessarily vote her party. She proved that in her vote for the budget, which most other Republicans were against.
Bryant has been a staunch supporter of Southern Illinois University Carbondale, and it's obvious she cares about the people in her district.
Marsha Griffin, the Democratic opponent, needs to be commended for her grit and toughness. Running for the same seat she ran for two years ago is difficult to do. It takes a special kind of person to run for office.
But Griffin doesn't have enough concrete ideas outside of education. Terri Bryant is the choice here to be the leader the 115th District.
House District 117: We are recommending the Democratic challenger Jason Woolard over incumbent Republican Dave Severin.
Severin has served an uneventful first term. His signature piece of legislation allows deer hunters to wear pink as well as orange camouflage afield. And, early in his term Severin sat out a couple of tough votes. Being a legislator is not easy. You are sometimes forced to make tough decisions. That comes with the territory.
Secondly, Severin was reportedly active in a late-season Republican push to get non-binding gun sanctuary initiatives on county ballots in order to drive voter turnout. We're all for encouraging voter turnout, and we're all for the Second Amendment, but let's appeal to voters on real issues that will truly affect their lives.
We're also bothered by Severin voting against ending the state's two-year budget stalemate and the new school funding proposals. The 117th District needed both measures and Severin opted to vote party over district.
Woolard put forth few specifics in his visit to The Southern Illinoisan, but not less than Severin offered — and he's been in office for two years.
For talking to Woolard, we believe he will be a moderate voice in Springfield. We also believe he has the will to vote in Southern Illinois' best interests and put party second. For that reason, Woolard deserves your vote.
House District 118: Natalie Phelps Finnie is our choice over Patrick Windhorst.
None of the candidates we interviewed were more enthusiastic about their job than Phelps Finnie. Although we disagree with her on several issues, she lucidly and vigorously defended her positions.
And, we also dislike the way she assumed office. She was appointed to fill the unexpired term of her cousin, Brandon Phelps. Those kind of handoffs occur entirely too often this state, and it's one of the many things that need to go away in Illinois politics.
On the other hand, there were two things that distinguished Phelps Finnie.
First, there is her limited support for Democratic gubernatorial nominee J.B. Pritzker's graduated income tax. Illinois still faces a massive backlog of unpaid bills. It is a problem that will only get worse if not addressed.
Phelps Finnie realizes the state needs additional revenue to get its house in order. However, she will not support the tax increase if it adversely affects middle-class taxpayers.
Second, she was adamant in her support of the social safety net.
Finally, given her background it's safe to assume Phelps Finnie will not vote the party line on several issues. She is a strong gun rights advocate, is pro-life and does not support the legalization of marijuana.
Senate District 59: Dale Fowler has done enough in the past two years to earn our endorsement for this seat. In fact, we're thoroughly impressed with the way he has grown in his first two years in office.
When he first took office two years, it was relatively unknown how Fowler would fare in office. After all, he always says that he's "not a career politician." Over time, he has proven many times over that he cares about bringing business and jobs to the region — evidenced by the support he's shown for getting the city of Cairo back on its feet again and his work for the Hardin County work camp.
Over his next term, we hope Fowler will continue to grow — much like Terri Bryant has in the House. We think he can do that.
Democrat Steve Webb entered this race late — he was added to the ballot after the primary — and focused primarily on education issues during his interview with the editorial board.
Fowler has earned the right to another term. He's our choice for the 59th District.
Subscribe to Breaking News
00-Pol RT,22-Talk,25-Working,26-Delivered
Region: Southern,Editorial,City: Carbondale,Region: Carbondale,Opinion
via thesouthern.com – RSS Results in opinion/editorial of type article https://ift.tt/2KEzbhb
October 24, 2018 at 06:35PM