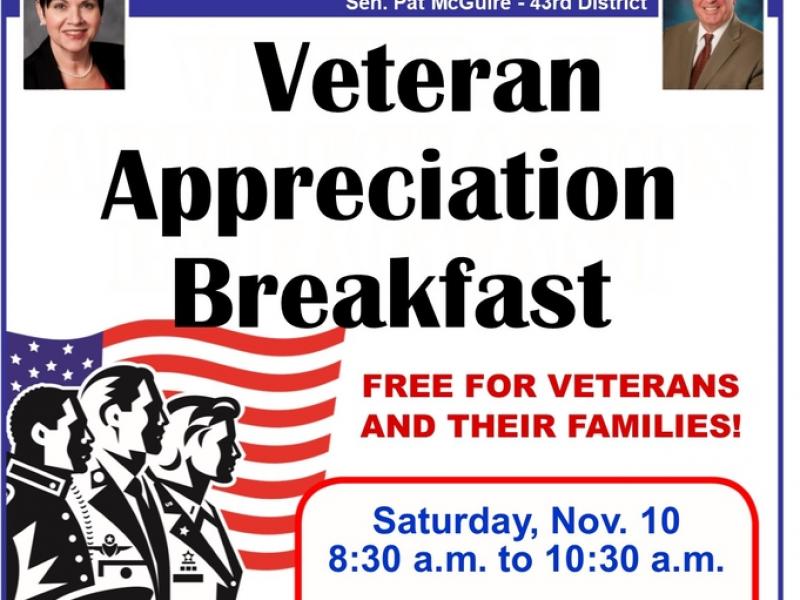 This post was contributed by a community member.
Will County area legislators, State Rep. Larry Walsh, Jr. (86th District), State Sen. Pat McGuire (43rd District), State Sen. Jennifer Bertino-Tarrant (49th District) and State Rep. Natalie Manley (98th District) will sponsor their second annual Veteran Appreciation Breakfast on Saturday, Nov. 10.
"It is our privilege to honor the service of veterans and their families," said Walsh. "We will once again welcome veterans and their families to a free breakfast at the Stone City VFW Post 2199, which provides a wonderful breakfast and celebration atmosphere."
"Almost 300 veterans and family members attended our first event last year," Walsh added. "It was great to talk with them and hear their stories from being in the armed forces, as well as to learn about how their commitment to community service and country continued after their military service. So many of our veterans are leaders in their communities. We look forward to greeting old and new friends at the Veteran Appreciation Breakfast."
"I applaud Rep. Walsh for again taking the lead in organizing this Veterans Appreciation Breakfast, a celebration of the patriotism of our veterans and the gratitude of us legislators," said State Sen. Pat McGuire, 43rd District.
Veterans and their families are invited to the free event, Saturday, Nov. 10 from 8:30 a.m. to 10:30 a.m. at the Stone City VFW Post 2199, 124 Stone City Circle in Joliet. For reservations, call or e-mail Rep. Walsh's district office at 815-730-8600, statereplarrywalshjr@gmail.com.
010-Inoreader Saves,00-Pol RT,25-Working,26-Delivered,19-Legal,13-GBI
via Joliet, IL Patch
October 25, 2018 at 06:55AM