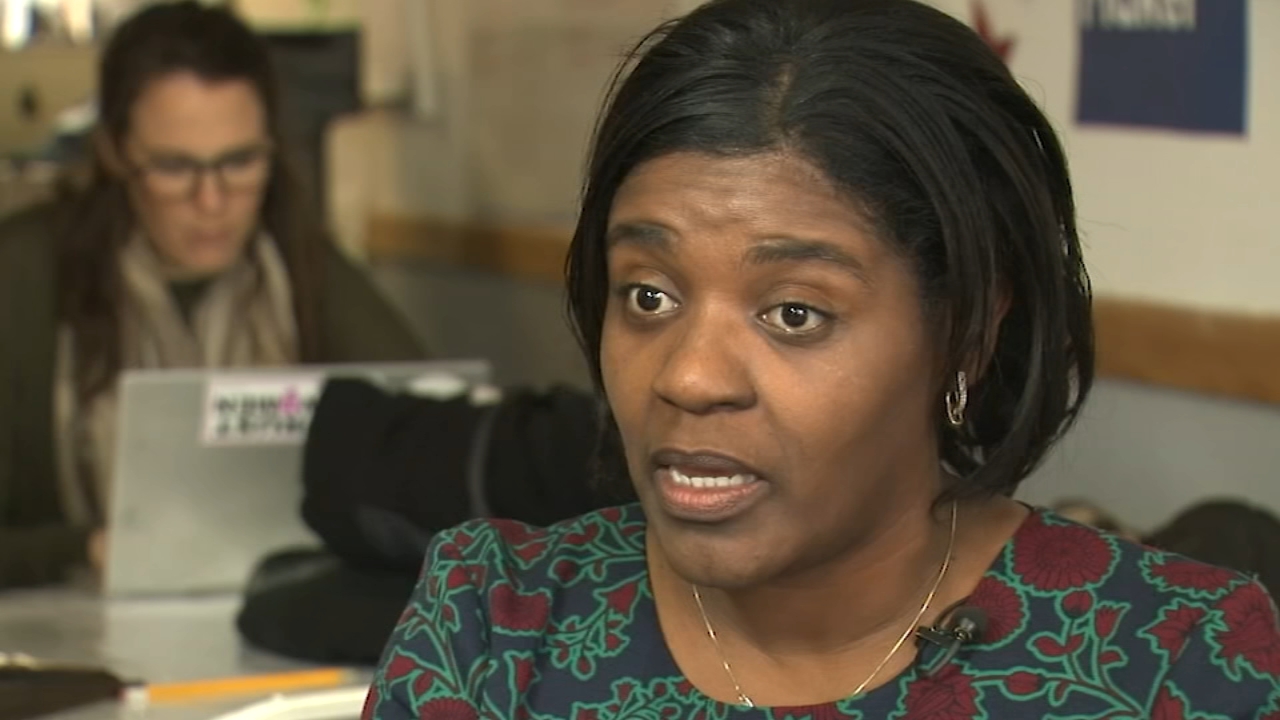 NAPERVILLE, Ill. (WLS) —
An error by an embattled election commission could cost a candidate in a suburban state house race a spot on the ballot. It has also left DuPage County democrats scrambling over what to do.
It all stems from a lawsuit this week that challenged the residency status of Val Montgomery, a political newcomer, that led to her being ruled ineligible to run in the 41st District, because as it turns out she does not live in the district.
Montgomery was hoping to be part of the democrats blue wave and represent the district, which covers the heart of Naperville. She was
one of three Naperville women featured on the cover of Time magazine
and was challenging Republican incumbent Grant Wehrli. He says a few weeks ago he learned that she did not actually live in the district, and filed a lawsuit on Monday.
"The Illinois constitution has two requirements to run for office, one, you must be 21 and the second is you must live in the district for two years, it is clear that my opponent does not live in the district through no fault of her own," said State Rep. Grant Wehrli, (R) 41st District.
The DuPage County Election commission, which came under fire after ballot issues during the March primary, conceded this week that a coding error had incorrectly listed Montgomery's subdivision in the 41st district, it is actually in the 49th.
Montgomery, who was working Friday and unavailable for an interview released a statement saying:
"Political corruption and white privilege are real and happen in too many places. The only thing I am guilty of is being a black woman in Naperville. This is not the first time a black woman in IL has run for office and suddenly issues with residency emerge."
She says she has contacted the NAACP and will fight to stay on the ballot.
The DuPage County Democratic Party said the decision will be up to Montgomery, but it is exploring options.
"So right now we're looking for candidates in her district to see if anybody is willing to step up and have their name put on the ballot and if there is my recommendation to Val would be OK, drop out, will get somebody else on there, it'll be clean we won't have to worry about any lawsuit later," said Bob Pieckert, Chairman, Democratic Party of DuPage County.
Montgomery said she relied on what she now knows was the faulty DuPage County information about her residency, not the state board of elections maps. Those had the correct information about which district she lives in.
The attorney for the DuPage County Election Commission said it is ultimately up to the candidate to make sure what district they live in.
(Copyright ©2018 WLS-TV. All Rights Reserved.)
010-Inoreader Saves,00-Pol RT,19-Legal,26-Delivered,25-Working
via ABC7 Chicago
September 21, 2018 at 08:26PM