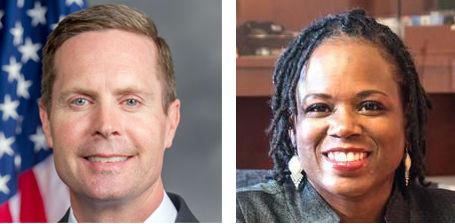 CHAMPAIGN — Much to her chagrin, Democratic state Rep. Carol Ammons wasn't invited to join Republican U.S. Rep Rodney Davis at Monday's public Q&A at Parkland College.
Ammons said Friday that she didn't find out about the second of Davis' Open Government Night events until she read about in last Sunday's News-Gazette, and was surprised she wasn't asked to sit alongside the congressman in her own state House district.
If she has to "listen to the concerns of those who didn't vote for me and who are not of the same political ideology," Ammons said, "then he should do the same."
Instead, Davis will be joined on-stage at Parkland's Harold and Jean Miner Theatre by state Rep. Brad Halbrook, R-Shelbyville, whose selection the Urbana Democrat particularly objected to.
"Unfortunately, the representative that he's bringing is also bringing an agenda with him that calls for the separation of people in the state based on geography, and I have an objection to that," Ammons said, referring to Halbrook's proposal to separate Chicago from downstate Illinois. "If there are concerns that need to be addressed about how we feel downstate, then we should have an intelligent dialogue. The separatist agenda (Halbrook) has been pushing speaks to Rodney's credibility. He invited him as opposed to inviting the local representative."
Davis' spokeswoman, Ashley Phelps, said Ammons is welcome to attend — "or host her own event" — to hear from constituents.
"This is an event for Congressman Davis and Representative Halbrook, who also represents part of Champaign and half of the county, to hear from constituents," Phelps said in a statement. "It's also unfortunate that Representative Ammons is using taxpayer-funded letterhead for campaign purposes."
When asked if she'll attend the event, Ammons said she'll send some staff members but could not plan her schedule accordingly due to conflicting appointments and the lack of notice.
The format of Monday's event calls for Davis and Halbrook to alternate answering questions submitted by audience members. Scott Beatty of News-Gazette Media's WDWS 1400-AM will serve as moderator and choose which questions he asks.
Neither Davis nor his representatives will see the questions ahead of time or have a hand in selecting them before they're asked, event organizers reiterated during a Friday conference call with News-Gazette Media.
Doors open at 5 p.m. Admission is free but space is limited — once the theater reaches its capacity of 302, no one else will be allowed in. Davis' staff said the event will be simulcast online.
Once inside the theater, audience members will be given the option of filling out a card with a question for either elected official. At Davis' first Open Government Night event, held July 29 at Richland Community College in Decatur, he and state Rep. Dan Caulkins, R-Decatur, took turns answering about 22 questions over the 90-minute program.
Ammons believes the crowd in Champaign won't be quite as welcoming as the one in Decatur.
Just last week, she and Davis were part of the same panel at a Champaign County Housing Authority forum focused on local issues, such as skyrocketing rent prices and the lack of access for the working poor to affordable housing.
"I have concerns about access to housing that are different to his," Ammons said. "It doesn't mean we can't have that discussion. I showed up and he showed up.
"Clearly, this is possible. He can hold whatever event he wants and develop it however he wants, but if this is about open government, then you need to invite other perspectives from the people that you represent."
010-Inoreader Saves,01-All No Sub,02-Pol,19-Legal,05-Z,26-Delivered,25-Working,24-ILGA
via The News-Gazette
August 17, 2019 at 07:45AM