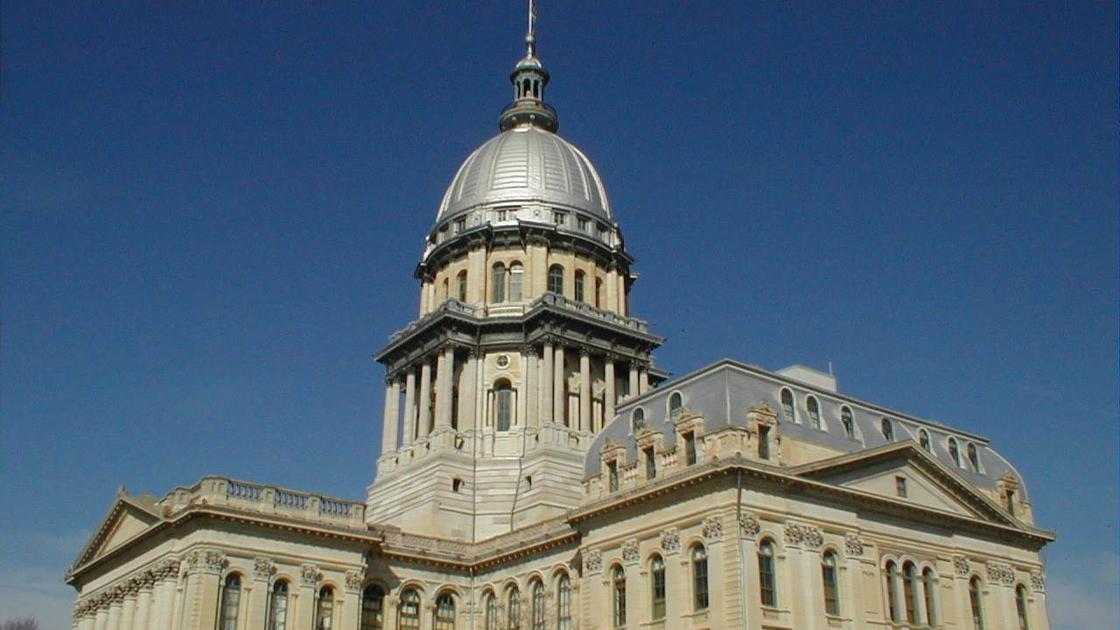 SPRINGFIELD — The Illinois General Assembly wrapped up its legislative session May 31, ending it with passage of an impressive amount of legislation that included legalizing sports betting and recreational marijuana, increasing the minimum wage, creating a balanced budget, and advancing a graduated income tax.  
Severl local lawmakers — Rep. Tony McCombie, R-Savanna; Rep. Mike Halpin, D-Rock Island; Rep. Dan Swanson, R-Alpha; and Sen. Neil Anderson, R-Andalusia — offered the following assessment of the session. They talked about what they are most proud of, what disappointed them, and their view of the work that is yet to be done. 
Sen. Chuck Weaver, R-Peoria, who represents voters in Mercer and Henry counties, did not respond to phone calls and emails requesting comment.
Tony McCombie
McCombie said her biggest accomplishment this year was passage of a law in the House that would would increase penalties for an attack on a Department of Children and Family Services worker.
The bill was introduced in memory of Pam Knight, a DCFS worker who was brutally beaten while trying to take a 2-year-old child into protective custody in Dixon. Knight died from her injuries in February 2018 after being in a coma for months. 
The legislation, Senate Bill 2272, failed in the Senate in January despite being co-sponsored by Anderson.
"We will fight for it again next year. I will look for a DCFS advocate in the Senate," McCombie said.
She said the bill could still be passed during the fall veto session. 
In terms of disappointments, McCombie said watching her bill to protect DCFS workers die in the Senate was disheartening.  
"Even though it was the best thing in the House, it was the worst thing in the Senate," she said.
Another defeat was HB1634, failed legislation co-sponsored by McCombie that would have expunged any DUI (driving under the influence) charge that happened 10 or more years ago that caused no property or personal damages. 
"It was a case of when you might have been a kid and you had that one mistake you couldn't get rid of," McCombie said. "It would have helped people trying to get a commercial driver's license like a truck driver or school bus driver. It was a criminal justice reform bill that was a missed opportunity. That was a huge disappointment."
McCombie's goals for next session include tackling the state's backlog of unpaid bills, and addressing workers' compensation reform and pension reform.  
"We still have so much work to do that could be easily tackled," she said. "We're going to have to work really hard now that all this spending has passed.
"A capital bill is a long time coming, I just don't know if we can afford a $40 billion bill," McCombie said. "It's like having your credit cards maxed out, and you go out and buy a new car. I know everybody was for it, but at whose cost?"
Mike Halpin
Halpin said approving a balanced budget is high on his list of accomplishments this session. 
"When it comes to big-picture accomplishments, it would have to be passing a bipartisan budget in each of my three years as a representative," Halpin said. "When I got to Springfield, the state had gone almost three years without a budget. I'm proud to have been a part of reversing that trend, and getting Illinois back to passing regular budgets, with bipartisan cooperation, which has earned us some level of stability for people and companies looking to do business with the state of Illinois."
Locally, Halpin said he is most proud of legislation he introduced this year that would permit schools to maintain a supply of glucagon, a rescue medication for students with diabetes.
"The idea was brought to me by a local school nurse, Jennifer Jacobs, who worked tirelessly to help support the legislation as it worked its way through the process," Halpin said. "It has the ability to save lives."
In terms of disappointments, Halpin said he was frustrated to see legislators continue to put "insufficient resources into the Property Tax Relief Grant, which is part of the evidence-based K-12 school funding formula.
"This fund is designed to encourage local school districts to tap into state funds in exchange for lowering their local property tax levy," Halpin said. "High property taxes are the complaint I receive most often, and although the state of Illinois does not receive any money from property taxes, its failure to meet its obligations to schools and municipalities has forced these governments to hike property tax rates.
Halpin said the Property Tax Relief Grant is an investment the state needs to fund in order to lighten the burden on property owners.
"Unfortunately, we have not assigned enough funds to the program to allow all eligible school districts to participate, and some of our local schools have been affected," he said. 
When the next legislative session resumes in the fall, Halpin said, his primary goals will be to pass a budget for the state, address workers' compensation reform, and make sure the recently passed capital bill includes local road projects.
He said he was pleased with an increase in the minimum wage and the legalization of marijuana and sports betting, saying both have the potential to bring development to the area. 
"I supported a capital bill that will bring millions of dollars of investment to our community, including funding for passenger rail from Chicago to the Quad-Cities," Halpin said. "These are the type of accomplishments that can happen when we have a governor (J.B. Pritzker) that is willing to sit and negotiate with all sides.
Continue reading your article with a digital subscription.
Thanks for being a subscriber.
Sorry, your subscription does not include this content.
Please call 800-660-2472 to upgrade your subscription.
"Many of these accomplishments were done with Republican input and support. This type of cooperation was lacking during the (Bruce) Rauner administration, and I am glad to see that bipartisanship can once again be achieved in Springfield," Halpin said. 
Dan Swanson
Swanson said his biggest accomplishments for the session were three bills he sponsored that passed. They included legislation that allows veterans of the Cold War to purchase special license plates indicating their service.
"Too many times when I've talked with elderly veterans, they say, 'I served, but not in a war,'" Swanson said. "Well, most likely they did serve, and they served in the Cold War between Aug. 15, 1945, and Jan. 1, 1992."
Swanson also is proud of passing legislation that requires private-pay insurance companies to cover physician care and testing for anyone with Lyme disease. The bill was sponsored by Anderson in the Senate. 
Swanson also worked to expand teaching opportunities for substitute teachers.
"I passed legislation which allows substitute teachers to register for the Illinois license and substitute teach at any Illinois public school," Swanson said. 
Swanson said his biggest disappointment with the General Assembly is the glut of legislation that is considered in the last week of the session. 
"The hurried rush of legislation at the end of each spring session, with little time to read and analyze what legislators are to be voting on, is no way to run a taxpayer-funded organization," he said. "There should be enough time to read, review, and solicit public input on the initiatives that are passed in Springfield. Legislative proposals always improve with bipartisan input as well as public input.
"I strongly believe we need to improve this process in the Illinois House," Swanson said. "I would like to see us move toward two-year budgets, with more time for public input and some requirements that cannot be waived about the time between when major budgetary legislation is filed and when it can be voted on."
Swanson's goals for the next session include spending cuts, improvements to public safety, "and a strong focus on bringing jobs and people back to Illinois.
"It's an uphill battle," he said. 
Neil Anderson
Anderson said approval of a capital bill was a big accomplishment during the legislative session. It will have a huge impact on area communities, he said. 
"It includes nearly $125 million for construction and capital improvement projects for Western Illinois University, and $225 million for the Quad-Cities high-speed rail project, as well as many road projects across we're going to be seeing across the district," Anderson said. 
"I hope people have peace of mind knowing when they fill up their gas tank, that money is going back into the roads," he said. "Thanks to the lockbox amendment, which I was proud to sponsor, Springfield can't sweep those funds for other purposes."
That constitutional amendment, approved by voters in November 2016, prohibits lawmakers from using transportation funds for anything other than their stated purpose.
Anderson also is proud that Senate Bill 1966 — also called "Fix the FOID" bill — didn't pass. The gun-licensing legislation would have added restrictions on gun owners, including requiring anyone with a FOID (firearm owners identification) card to be fingerprinted. 
Anderson called its defeat a "major win for Illinoisans." He said the bill would have "radically impeded on our Second Amendment rights.
"Not only would it have mandated fingerprinting, it would have increased FOID card fees, cut the time a FOID card is valid in half, and banned private sales and transfers of firearms," Anderson said. "This measure received a lot of public opposition. I'd say it's a huge victory that it didn't pass."
Anderson said his biggest disappointment during the session was passage of the Reproductive Health Act, which makes abortion a fundamental right for women in the state. 
"When we look back years from now on what took place this legislative session, I think people will remember how extreme that measure was," he said. "Proponents sold it as a move to keep abortions legal if Roe v. Wade were to be overturned, but it went a lot further than that. It was a radical move to expand legal abortion."
Anderson said the gradual minimum wage increase to $15 an hour also was frustrating. He suggested a regional approach instead, allowing different wage levels according to region, which would have addressed the state's economic diversity. 
"Chicago and the Quad-City region are vastly different when it comes to cost of living," he said. "For our area, this is even harder because businesses here can just hop over into Iowa, where the minimum wage is $7.25."
Anderson said his goals for the fall session will be to bring in jobs and lower taxes. 
"I will continue to advocate for smart policies that grow our economy, bring jobs to Illinois, and ease the burden on taxpayers," he said. "Illinois still faces a lot of challenges, and it is my hope that we can begin to focus our attention on issues like high property taxes."
01-All No Sub,02-Pol,19-Legal,24-ILGA,25-Working,26-Delivered
Feeds,News,State,Politics
via "Illinois Politics" – Google News http://bit.ly/2Sc9ojT
June 16, 2019 at 01:28PM