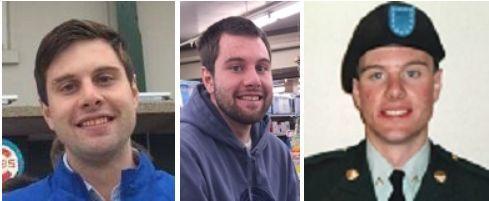 A new state law that becomes effective on January 1st will include what is called a "Silver Alert" for missing veterans, particularly those suffering from a physical or mental health condition.
House Bill 4212 amends the Missing Persons Identification Act to add veterans and active duty members suffering a physical or mental health condition in an attempt to reduce the suicide rate.
Law enforcement will be able to issue a "Silver alert" for a missing veteran. Like an Amber alert, the public will be notified in an effort to quickly locate a missing veteran and perhaps save a life.
The measure was a bi-partisan effort that passed unanimously. Democratic State Rep. Stephanie Kifowit of Oswego says the new law, "would have helped the Soesbe family when their son Trey, a National Guardsman, who struggled with depression, was missing for two years."  
As WSPY reported in August, the Kendall County Coroner's Office positively identified 30-year-old Trey Nathan Key Soesbe of Aurora as the man whose remains were found by kayakers near the Route 30 bridge between Oswego and Montgomery.
Soesbe, a former Army National Guard Specialist, was reported missing in December of 2015 and was last seen by a family member Dec. 29, 2015 when he was dropped off at a homeless shelter in Aurora but never registered or spent a night there.
Police say Soesbe suffered from alcoholism and bipolar disorder. In July of 2016, Soesbe's father wrote an email to Kifowit about his son recalling when Kifowit had visited Soesbe and his father two years prior to the disappearance.
Soesbe's father in the email said that Trey Soesbe's sister had contact with Soesbe, who's phone allegedly went dead after he told her he was "down by the river by some dangerous people." His remains were found on an island in the river on August 4, 2018.
Kifowit said in a statement on Friday about the law, "I think of Veterans such as Trey Soesbe, and hope that this law will help our struggling Veterans. The State of Illinois must help search for Veterans in danger and I will continue to support legislation that helps all Veterans readjust to civilian life."
The legislation was proposed by Republican State Rep. Dan Swanson of Woodhull who was a 2nd Lt. in the Army National Guard. Rep. Kifowit served as a United States Marine.
01-All No Sub,02-Pol,19-Legal,24-ILGA,25-Working,26-Delivered
Region: Northern,News,City: Morris,Region: Morris
via http://www.wcsjnews.com – RSS Results of type article http://bit.ly/2T4KXF3
December 21, 2018 at 05:45PM